Let us help you design the perfect ditch lining system to meet your drainage, erosion or irrigation needs.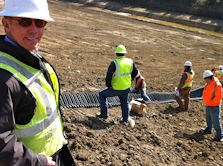 Our Civil Engineers are available to assist you with all phases of your SmartDitch system design plans. We will help you prepare a solution that meets all your flow requirements and recommend the best combination of channels and fittings for a cost-effective and permanent drainage plan.
To help you with your planning, please download a flow calculator here.
Check out the new video of SmartDitch's Highways' England Installation in Devon
Read More »
Spean Bridge Road Realignment A82 Glen Gloy Jacobs UK Limited in association with Transport Scotland were tasked with designing and realigning the A82 at Glen
Read More »
Highways Drainage A38 Bittaford, Devon UK. Highways England's area contractor EM Highways and WBM Groundworks were contracted to resolve a flooding issue on the A38
Read More »